Santorini Proposal Reviews
Over the years of proposal planning in Santorini, We've received some very sweet words and reviews from our couples.Here you will find some of them:
Spectacular! I honestly will struggle to fit how wonderful Santorini Proposals are. I will start by saying they have been a pleasure to work with, they have been so accommodating throughout the process making me feel my opinion was valued. The communication has been prompt and highly professional, without it being an issue being in separate countries. I had a vision with high expectations and they catered to my needs and more making my special moment perfect for me and my fiancé. I shopped around for help with my special day and Santorini Proposals are second to none. I highly recommend using them. Big thanks to Santorini Proposal for an amazing service, the photographer and videographer captured my dream proposal come true.
Glen & Suzanne
Santorini Proposal Review
From UK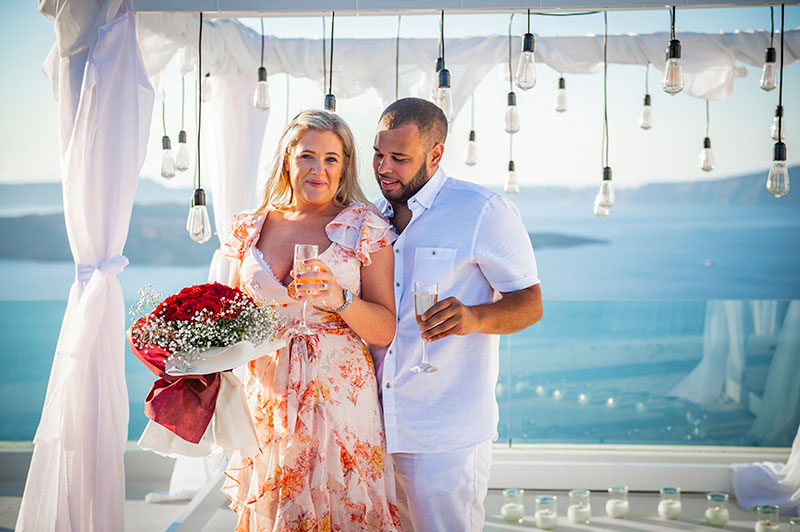 Professional Vendor delivering top quality service! Maik was extremely helpful throughout the entire process. Even with the time differences, he was responsive to my inquiries. The day before the proposal we met up to go through the finer details, making sure that everything was going to be perfect and that we hadn't missed anything. On the night of the event, Maik and team made both my now Fiancé and I feel relaxed and special. It was honestly the best night of our lives so far! We now have fantastic videography and photo's of the proposal that we can look back and reminisce I put my trust in Maik and team to organise this very special momentous occasion and I couldn't recommend them more highly Feel free to check out our Engagement @roamwithrosee
Jose & Renée
Santorini Proposal Review
From Australia
My Perfect Santorini Proposal
Maik and the team did a fantastic job putting our setup together to make our special day so magical – I cant thank him enough! I had planned a surprise proposal and Maik went out of his way to liaise with my hotel and my own photographer to ensure everything went to plan. Absolutely beautiful day, organised by wonderful people! Would 100% recommend them for anyone planning a special occasion in Santorini!
"Hi Maik Thank you so mich. Yesterday was incredible – it couldn't have gone any better!" Jivan – Guest Photographer Absolutely Amazing! 5/5 Service! From the planning stage to the final execution, everything was perfect! We met to go over the plan and was warmly welcomed and we put our ideas together to make the proposal amazing! The team went above and beyond and met all the needs to make it the perfect proposal. Could not fault them at all! Thank you so much for an amazing experience and was a pleasure working with you.
Birju & Daljit
Santorini Proposal Review
From UK
Best experience ever! How to start?!
A good question as everything was simply perfect.
What we dreamed about Maik and his team make it happen.
All of them are nice, professionnal, and are searching for the perfection! This is not their job, it's their passion, and we really felt it! The work is done with heart, like it's their one shoot, and this is rare. My fiancee and myself recommend them, no one else can make you feel what we felt and what we are still feeling it when looking on the photos and videos 🙂
Adela & Dzenis
Santorini Proposal Review
From Germany & France
Amazing Vendor! Top Quality of service, Very responsive, we spoke via email and within 24 hours I received an answer to all the questions I had. A great guy maik sirigos. Provided a high value service we really appreciated, Maik was also very Flexibile and most of all professional. Over all an amazing vendor.
Yeqing & Juan
Santorini Proposal Review
From Netherlands
Maik was exceptional in delivering a first class proposal for me. He exceeded my expectations and I would recommend anyone planning a proposal to choose Maik and Santorini proposal. From initial contact via email, he guided and explained to me all the details and was able to provide everything I needed, he was very helpful and detailed in helping planning the proposal up to the point where he came personally to see me the night before to go over every little detail

Nilesh & Bhavishya
Santorini Proposal Review
From UK